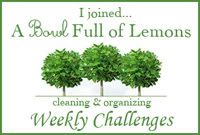 The first weekly challenge over at A Bowl Full of Lemons is to create a Home Management notebook. I made Boyfriend go with me yesterday to get a notebook because the weather around here has taken a turn for the worse and is only going to get more icky as the week goes on. I picked out a super cute one from Target and labeled it accordingly.
I have the following tabs:
Menus
Birthdays
Cleaning
Blogging
Finances
Calendar
Products
Deals
Organizing
Inspiration
The first page is my weekday routine. Its not super strict but hopefully it will help me to remember to take something out for dinner in the morning and pick up the apartment every night.
The next tab is where I can keep our weekly menus. I still use our menu board but I want to use this too because it is more detailed and so I can keep them so I'm not making the same thing all the time.
The next tab is for Birthdays. There is one page for each month so I can keep track of birthdays and also what gifts we have gotten them.
The next tab is for cleaning. I had been doing a daily cleaning schedule but it wasn't really working so switched to a weekly schedule.
Under the organizing tab, I have a monthly schedule. These are areas that don't need constant attention. A monthly check up should keep them in good shape.
Those are the only tabs I have done right now. In the Calendar one, I am going to put a list of holidays and schedules like for work, school, softball, etc. I didn't want to do another calendar because I already have two and I think another may just add to the chaos. In Deals, I am going to put our voucers for Groupon, Living Social, Groop Dealz, Muncharoo, and Spreesy. Blogging will be for ideas and posts to be done here. Finances is pretty self explanatory. Products will be where I take notes on products that I like and don't like and Inspiration is for things that make me happy. :)
If you're interested in any of my printed pages, shoot me an email and I will hook you up.