Just in case you were wondering what happened to my work on the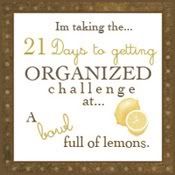 I'm not, I promise!
Its just that the last few challenges haven't really applied to me. Challenge #8 was to organize your coat closet or another closet. The thing is that I already reorganized our coat closet right before Christmas and it is still looking pretty. Our apartment only has four other closets—I've already done the linen closet, I did the spare bedroom storage/craft/clothes closet right after Christmas to make room for all of my craft stuff, my closet is already organized too (I'm picky about my clothes) and I'm not doing Boyfriend's closet, although to be honest, its not so bad.
Then the next day (yesterday) was kid's toys or a hobby area. Well I don't have any kids so I don't have any toys to organize and again, the craft stuff (which is my only hobby with lots of stuff) is already organized.
Today's challenge didn't show up in my Google Reader for some unknown reason, but I sniffed it out and it is your laundry room/area. Unfortunately I have neither, which is currently the source of a major headache in my life. (BTW mom, I'm coming to do my laundry tomorrow.)
So as you can see, I haven't had much to organize. It's probably a good thing because I'm back in school, so I'm busy busy busy again. I have been doing a little crafting and have a few projects lined up that will commence as soon as it thaws out enough here for me to go pick up a couple of things.
(edit: thanks mom for pointing out my spelling errors...and thanks for letting me do my laundry) :)